Pulau Tiga ( Tiga Island ) - Sabah
THE SURVIVOR ISLAND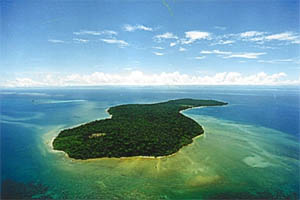 Just over a hundred years ago, a tiny island was formed by a volcanic eruption off of the coast of Borneo. Since that time, the island of Pulau Tiga has recently became a household place name known as the Survivor Island due to the popular television show Survivor.
Survivor is a reality-based television show based on Sweden's Expedition Robinson. Contestants in this twisted game show were "marooned" on Pulau Tiga and have to slowly vote each other off the island and the end result, after 39 days, is that only one "survivor" remains - and that person wins $1 million!
Pulau Tiga is 6 miles (10 km) offshore on the west coast of Sabah, to the northeast of the country of Brunei. The island is about 2.8 miles (4.5 km) long and 1 mile (1.5 km) wide, for a total of eight
square miles (20.7 km2). Pulau Tiga's highest peak is approximately 330 feet (100 meters) tall.
At the PULAU TIGA RESORT, you'll never be short of something to do, whether action or relaxation is what you're after ...
A 7-km coral reef around the islands is home to some 35 general species and 98 species of hard corals and their accompanying 'guests' - the brightly coloured fish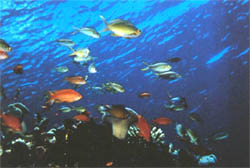 and other marine life to whom the reef is home. The coral reefs which fringe part of Pulau Tiga Park are easily accessible and contains some species not found in the reefs on the west coast.


Around the island especially the southern and eastern portion are found fringing coral reefs through which one could snorkel and scuba dive among a kaleidoscope of colors and forms for hours. About 132 species of fishes representing 62 genera in 32 families have been identified around these reefs.

The island consists of three low hills that were formed when 'volcanoes' of mineral-rich mud were spewed out from underground. Since the last explosion in 1941, the 'volcanoes' have remained passive, leaving the island relatively serene. Coral fragments from the encircling reef, make up the fine sand of its clean
white beaches, while the lush green forest is reflected in the emerald depths of the crystal clear sea.

Volcano Trail to Rocky Beach (1,900 m)
The 30 minutes trail starts at the base camp near to the National University of Malaysia marine research site. The volcanoes are now largely dormant. Every few hours, bubbles of gas rise to the surface and with a loud sighing 'gloop' spatter cold mud over the surrounding vegetation. Many visitors are fascinated by this and some even spread the cold mud over their face and body - nature's beauty treatment! One of the sapling of special interest encountered along this trail is the Tongkat Ali which is well-known for its medicinal properties.

Pulau Tiga - (Tiga island)
Hotel Name
Location

Star Rating

Rates

Tiga Island Resort
Pulau Tiga