Welcome to the Angkor Hotel, Siem Reap, Cambodia
Angkor Hotel, a hotel built and strongly inspired by the rich heritage of Khmer culture; a hotel reminiscent of the Angkorian era yet blended with the comfort of a modern hotel.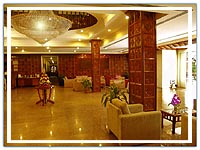 Discerning and seasoned travellers will be surprised by our Khmer hospitality; truly, a hotel which offers something pleasantly different - a resort-style respite, an excellent complement to your visit, or perhaps, pilgrimage, to the world famous Angkor temple complex, a phenomenal architecture of a by-gone era.
Angkor Hotel, offers a relaxed environment with modern hotel facilities and services. Our Khmer hospitality is extended to our willingness to make your stay in Siem Reap something pleasantly different and your visit to Cambodia a memorable one.