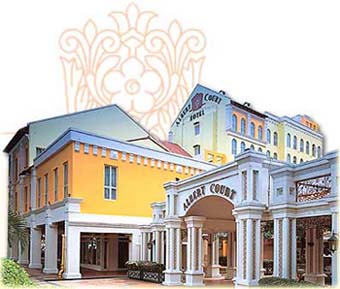 Guests at the Albert Court Hotel can enjoy a range of its in-house services and facilities whilst at the same time, experience the exotic sights, scents and sounds of this culturally rich and commercially vibrant area. An area where fragrant spices, stock - crammed shophouses, ethnic jewellery and giant curry pots greet you just minutes from the Hotel's doorstep.
This 8-storey boutique hotel is designed to blend in with the antiquated architecture of the shophouses. The hotel has an overall "occidental" flavour and tastefully incorporated throughout are interesting Asian touches. This is evident in the intricate carvings and motifs found on the building's facade.
New Courtyard Rooms
Blending East and West, tradition and modernism in a hip new image, 46 new Courtyard Rooms have just been added and are situated across our main hotel building, bringing the total number of rooms to 182.
With beautiful water features and landscaping, the result is a modern extension to this wonderfully unique boutique hotel, where you can experience the unique taste of prewar shophouse living, accentuated by modern amenities - an experience like no other in Singapore.