The Parkroyal on Beach Road, Singapore is situated conveniently within Singapore's central business district where all the prime offices are located. It is well connected to the conference, convention and seminar hub of the city. Its close proximity to some of Singapore's best shopping malls, tourist attractions and entertainment centers make it the ideal choice whether it is for business or pleasure!

The Hotel has the perfect ambience to suit discerning travelers. Each of the 341 spacious yet cozy hotel rooms and suites come packed with thoughtful, handy conveniences, specially designed to cater to those who seek quality welded with comfort. For those who seek exclusivity, the Orchid Club floors offer a range of executive privileges combined with a new level of comfort.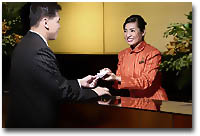 Even as you relax in the comfort of your plush surroundings, you can let your palate live it up with gastronomic delights served in some of the finest restaurants to be found in Singapore. The flagship Si Chuan Dou Hua Restaurant features experienced chefs from Chengdu who will impress you with authentic Sichuan cuisine. For those who seek the more familiar, the Plaza Brasserie features lunch and dinner buffets offering Western and Asian à la carte favorites. For a magical experience that takes you on a trip down memory lane, the hotel's Club 5 will prove to be an unforgettable experience.
Let traditional Indonesian and aromatherapy remedies soothe your stress spots at the St. Gregory Parkroyal on Beach Road, Singapore. Work out at the hotel's state-of-the-art gym, unwind in our lap pool and relax at the health bar, Jacuzzi or sunbathing deck.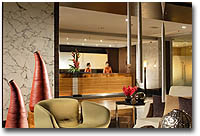 The Plaza Ballroom and seven function rooms offer all you need to host your banquets, parties, conferences or seminars for up to 500 guests in Singapore. Work with our experienced event planners to make your business function or social celebration a resounding success!
The Parkroyal Hotel on Beach Road, Singapore is indeed a tropical paradise that offers you all the convenience of being close to the action, without the stress and hustle. Let us design your stay in Singapore while you sit back, relax and savour the experience of holistic hospitality.