Swissotel The Stamford Singapore
2 Stamford Road, Singapore 178882
After a $45m renovation, Swissotel The Stamford Singapore is proud to present 400 brand new Premier Rooms, a Chic new Lobby and a myriad of cutting edge facilities, services and amenities. Each of our Premier guest rooms offers guests a whole new level of luxury and comfort, with bathrooms that have been created to offer four fixture facilities and a new minimalistic look.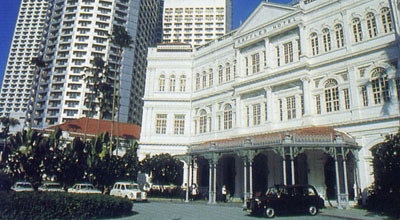 Making its debut is Swissotel 's latest innovation - the Heavenly Bed. Exclusive to Swissotel Hotels, the Heavenly bed offers layer upon layer of pure bliss. With five sumptuous goose down pillows, a custom-made pillow-top mattress, a cozy down blanket, comforter, duvet and three layers of cool crisp sheets, who could not 'sleep well' ?
Also introducing the Heavenly Shower, another Swissotel innovation that will be sure to refresh and relax as revitalising droplets of water gently 'rain' down upon you.The new Swissotel Plaza also brings to guests, cutting edge technology such as STSN (Suite Technology System Network) Hi Speed Internet Access and Hotel Mobile Extension Phones, making your stay all the more convenient! With its consistently impeccable service, a stay at The Swissotel Plaza promises to be an unforgettably 'heavenly' experience.