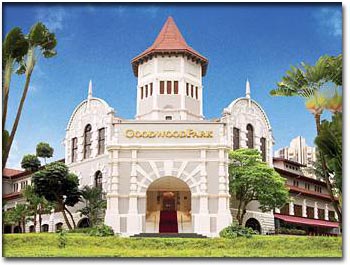 Built in 1900, Goodwood Park Hotel began as the Teutonia Club - an exclusive enclave for the expatriate German community in Singapore. In 1929, the Manassehs turned Goodwood Hall into Goodwood Park Hotel, catering to traveling businessmen from Malaya. The Hotel became one of the best-known hotels at the end of the nineteen thirties and among the noted guests from that period was the Duke of Windsor, later the Prince of Wales of England. For over 100 years, the Hotel withstood the ravages of time, endured many transitions and the passing of two World Wars till today, where she stands out as a beacon of Singapore's rich and cultural heritage.

Recognized among Asia's grand hotels, the Hotel's unique site on a hillock is an established landmark along Scotts Road - one of Singapore's most prestigious address. Indeed, Goodwood Park is a distinguished institution in hospitality circles, and truly one of the most reputable pioneers of the tourism industry. Much of her original beauty has been faithfully restored and her majestic air artfully accentuated with fluted columns, delicate woodworks, decorative plasterwork and graceful archways. Through the years, she has gained recognition for her exquisite elegance, legendary charm and tradition of excellence, with her Grand Tower gazette a national monument in 1989. On September 21 2000, this grand dame celebrated her 100th anniversary.

Relive the opulence of a colonial era at Goodwood Park. With an illustrious tradition of unparalleled hospitality, luxurious accommodation and renowned cuisine, a stay in this preferred heritage hotel is nothing short of unforgettable.