Gemia Island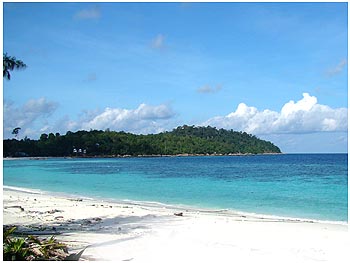 Another new born island in Terengganu, Gemia Island (perhaps is more accurate to say, new born tourism spot) is a tiny island located just beside Kapas Island.
There is only one resort on the island to accommodate the raising number of tourists. Rooms are stretching along the rocky shore. Though the beach is narrow, yet, like other islands in east coast Peninsular Malaysia, it is covered by white sand.
Because itis new and small and moreover, like other island hidden in the shadow of Redang and Perhentian Island, Gemia Island is less known to the tourists. Nevertheless, this has prepared the island a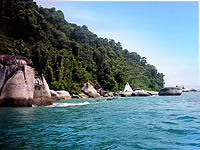 peaceful and quite atmosphere for holiday seekers and also the wildlife. Sea eagles, reef herons, tern and also the precious giant leatherback turtle come to nest their eggs on this island every year. Like some of the regular tourists who spend their holiday on the island every year, green turtles, Hawksbill and Olive Ridley turtle are also regular visitors too.
RESORTS IN GEMIA ISLAND AND KAPAS ISLAND

Resorts in GEM Island & Kapas Island
Hotel Name
Location

Star Rating

Rates

Duta Puri Kapas Island Resort
Kapas Island

Gem Island Resort & Spa
formerly Gem Wellness Spa & Island Resort
Gem Island