Rawa Island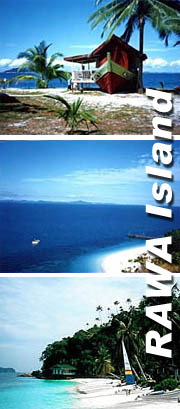 Rawa Island is an unspoilt coral island and is located 16km off the coast of Mersing.Famed for its white coral sand tall palm trees and offshore coral reefs with neon-coloured fishes and other exotic marine life. Pulau Rawa (Rawa Island ) is truly a paradise island.
This is the type of place you can leave your cares, worries, your problems behind, just lay back soak it all up, and enjoy the moment, forget the phone, time and all the rigors of town life; Live life to the full on "Rawa".

It was nice to take a break this month on Pulau Rawa, my favourite island paradise in Malaysia. Lots of rest and relaxation, a great beach, waves lapping beneath our waterfront chalet overlooking the South China Sea, good company and of course good friends there too.

Mersing is base in Johor Bahru Malaysia, Johor is the third largest (19,984 sq km) and one of the most developed states in Peninsular Malaysia. It is situated at the southern tip of the peninsula, just across the Straits of Johor from Singapore (with which it is connected by a road and rail causeway). Johor's population exceeds two million people, comprising an ethnic mix of Malays, Chinese, Indians, and other groups. Its capital is Johor Bahru.