Pulau Sipadan ( Sipadan Island ) - Sabah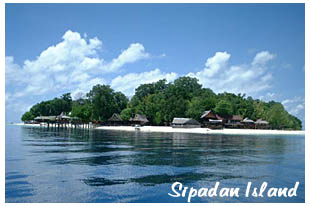 The name of Sipadan is simply legendary in diving circles, conjuring images of twirling tornados of barracudas and jacks, patrolling hammerhead sharks, millions of technicolored reef fish and, above all, dozens of sea turtles swimming peacefully everywhere.

"Sipidan, Borneo: The waters of Indonesia meet the waters of Malaysia at the 'Ring of Fire'. Within this underwater circus lies one of the world's freshest dive sites - Borneo's Sipidan Island. Seeing 10 green and hawksbill turtles in one dive is not uncommon, nor is seeing a school of 300 barracuda and hammerheads The proximity of dives to shore allows you to gear up, swim out a few yards, and get some of the best diving of your life."

As I discovered, most people go to Mabul to dive Sipadan, that great pelagic sea mount made famous by Jacques Cousteau, home to the turtle tomb, thousands of live turtles and millions of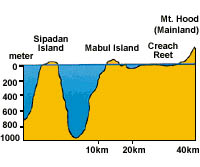 schooling pelagics. The reason they choose Mabul over Sipadan is mainly because the accommodation at Smart Diver Resort on Mabul is slightly more upmarket than that found on Sipadan, offering private en-suites, fresh (not brackish) showers and loads of hot water.

If you're diving Sipadan from Mabul (only 15 minutes away by boat), then you're out for the whole day.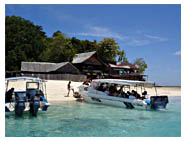 This isn't a problem because the boats are huge with lots of room, full awnings and even shelves overhead for dry gear. Between dives, have your surface interval sitting on the famous Sipadan wharf, or perhaps,walking along the beach. Lunch is a picnic affair on the back side of Sipadan Island

. After three dives, you'reback on Mabul in timefor a hot shower and a late-afternoon cup of tea or coffee, which is always accompanied by a scrumptious Asian pastry of some sort.




Resorts in Sipadan Island & Mabul Island
Hotel Name
Location

Star Rating

Rates

Sipadan Water Village Resort
Mabul Island , off Tawau

Seaventures Dive Resort