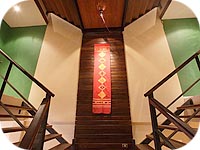 Luang Prabang Opened in late 2005 on the main street, the Ancient Luang Prabang Hotel's 3rd floor open air café has a virtually panoramic view of the city.
Guests can enjoy the central location - just walk out of the lobby and start browsing the day and evening textiles markets, shop at fruit stalls and walk to restaurants and all the major sites.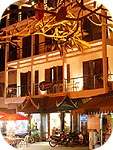 Stylish attention to detail in decor and construction is immediately evident - stone inlaid floor patterns lead into the reception desk, an angular staircase climbs sharply up into the body of the building and vivid self-colored walls distinguish each floor. Guest rooms, each named after an animal from the Chinese zodiac, fan out from the central wooden staircase spine.
The unique hand carved wooden keycard fobs are stored in a splendid circular key panel at reception. The Ancient Luang Prabang's friendly staff goes out of their way to make your stay an enjoyable experience.