Welcome TO HBRM (Hotel Beau Rivage Mekong)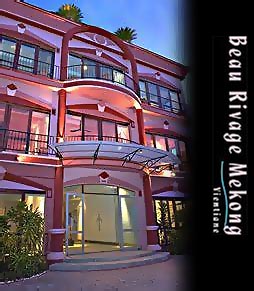 Ideally situated on the Mekong River front downtown Vientiane, HBRM has been designed to offer visitors a new and attractive option in regard to both modern accommodation and value.

With style, comfort & friendly small hotel environment, HBRM has the location, access, facilities and services guests need to ensure their stay in Vientiane, be it for business or leisure is a relaxing & rewarding experience.

The Beau Rivage Hotel, Vientiane is within walking distance to the river, Wat Seetarn Neau Temple and Vientiane City Centre. The modern, contemporary Beau Rivage Hotel has a lobby decorated with sculptures and artworks. The hotel has no dining facilities; breakfast is served next door in an open air terrace restaurant. Rooms are nicely furnished using Lao material hangings.