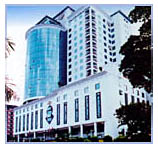 Grand BlueWave Hotel Johor Bahru is strategically located at the tip of the city overlooking Singapore and within 5 minutes walk to the city, major shopping malls and the customs checkpoint. The 184 exquisite residential suites with commodious one or two bedroom will charmed you with its solitary architectural style for the kitchen, dining and lounge. It is an ideal choice for long-term stay or for families.
We provide luxurious facilities such as gymnasium, steam bath, sauna and swimming pool to name a few, other accessibility such as hair salon, laundry service, secretarial services and high speed internet access is just at your door step for comfort and convenience.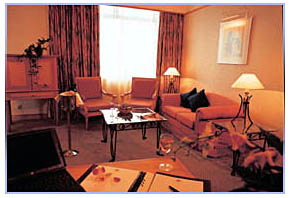 Dining should not be a problem as we offer three outlets to choose from, Orient Express Coffee House, Nan Yuen Chinese Restaurant, Agehan Japanese Restaurant. As for entertainment, unwind and relax at Trevi Fountain Lounge, Bongo Pub or Family Karaoke Box.
Your contentment is our main priority. So, let us pamper your every need and remember…an exceptional and memorable stay awaits you here at the Grand BlueWave Hotel Johor Bahru.