Sentosa Hotel
92-93, Jalan McKerron,
P O Box 252, Kuala Belait KA1131
Brunei Darussalam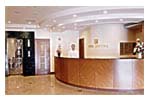 Enjoy a memorable stay at Sentosa Hotel in Kuala Belait town. We are located in the heart of Kuala Belait town easily accessible to shops, supermarkets, restaurants, cafes, gymnasiums, hair saloon, bus and taxi stations, airline offices, major banks and Government offices. The tranquil, beautiful Belait River is only meters away and the long sandy beach is just a short walking distance from our hotel.

Our hotel provides guests with clean, comfortable and cosy settings. Our rooms are modernly furnished and include facilities guests would expect from a small boutique hotel.




Syazana Café provides great specialties of traditional and authentic Malay and Indian cuisine. Our well designed interior puts guests in the right frame of mind to relax and enjoy our superbly prepared dishes.