D' Coconut Island Resort
Pulau Besar, Mersing, Johor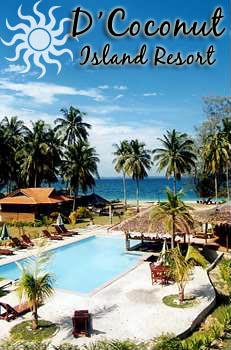 Getaway Paradise is perhaps best illustrated at the idyllicHarlequin Island Resort or now known as D'Coconut Resort, a haven of tranquillity tucked away in paradise. It is located on Pulau Besar, one of the most picturesque islands along the East Coast of Peninsular Malaysia. Originally a coconut plantation, the accommodations are styled after village huts. The facilities available now are a restaurant that can seat 100 persons, a conference room and karaoke.

Just thirty minutes from the Fishing Town Mersing Jetty, you are already in the warmth of D'Coconut Island Resort hospitality, sparkling sunny days and soft velvet nights quietly conclude that dreams you dare to dream really do come true.
The chalets are designed to keep the spirit of traditional local Malay wooden house perfectly blends with the cool comfort of air-conditioning. The beach bar is the perfect retreat for watching the sunset, while squinching thirst after a full day of incredible adventure.