Asia's premier haven for the discerning traveller and corporate retreat. Located at the southern-most tip of Johor, at the source of the tranquil Santi River, Sebana Cove is a truly integrated golf, marina, residential and holiday resort all within a superb eco-setting.

The excitement of Sebana Cove begins as you enter, either on your own boat or by our ferry direct from Tanah Merah Ferry Terminal, Singapore. On arrival you are greeted by the Sebana crew and escorted to our private customs and immigration control.
Or by road along our meandering drive way through the lush tropical vegetation. Enjoy the relaxed ambience of our marina, play golf on our 18-hole international standard golf course, enjoy the mangroves and go fishing, discover the many flora and fauna, or simply sunbath by our beautiful freeform landscaped pool.
Whether you are floating a new concept or looking for a stroke of genius, the serious work of corporate meetings is often more inspired by a setting which relaxes the mind and allows you to focus on collective energies.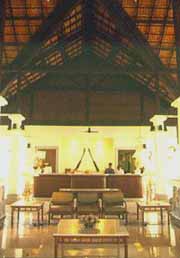 Sebana Cove is a resort and residential development in the state of Johor that comprises of an international residential marina and golf resort set within a comprehensive community of wide ranging facilities.

Spread across 1,255-acres of dense tropical rainforest, oil plantation, mangrove swamps and rich marine life, a development that has successfully retained the natural terrain and taken full advantage of the surrounding natural environment.

As a place to relax and enjoy the tropical surroundings, Sebana Cove is difficult to beat.

Sebana Cove is the ultimate luxury resort catering for corporate retreats. Whether it is a private meeting, a convention or a company training event, Sebana Cove is equipped with all the facilities, communication and comfort you expect and need, with a whole lot more.