East Java
East Java is one of Indonesia provinces. It is located on the eastern part of Java Island and also includes Madura and Bawean islands. It state in the West neighbor of Bali, across the small Strait of Bali. East Java has a variety of attractions, from temple sites to scenic beaches, a sand-sea, highland-lakes, volcanoes, marine gardens and wildlife reserves. Magnificent mountain scenery include the crater and sea of sand at Mount Bromo, the "sulfur mountain" Welirang and rugged lien Plateau. Little of the former glory of Majapahit Empire, still stands in East Java to day with the exception of temple ruins and some archaeological discoveries. East Java's claim to fame in modern history is its vanguard role in the struggle for independence against colonial forces in 1945.

The administrative center of the province is located in Surabaya, the second largest city in Indonesia and a major industrial center and port. Its capital, Surabaya is second to Jakarta in size, population and commerce. East Ja

va is also the most industrialized province in the nation. Its economy is based on agriculture, fishery, oil industries, coffee, mangoes and apples. Connected with the rest of Java by good motor roads and train services, there are also air services between Surabaya and other major cities in the country including Bali which is only half an hour's flight a way. It is also easily accessible by road and regular ferry from Bali and Java. Madura Island, famous for its bull races, is part of the province of East Java, though it has its own traditions and language. Fossilized remains of prehistoric animals and the site of the Java man at Trinil, Ngawi, will tantalize the archaeologist, as well as numerous temple ruins dating from the 7th century AD.


Geographically
The wide of East Java area is 47,921 sq km. Two thirds of the area is mountainous with approximately 48 mountains. The highest peak, Mount Semeru is the highest in Java. The Brantas (314 km) and Be

ngawan Solo (540 km) are the two big rivers. This area is located between 5o 37' and 8o 48' South Latitude and between 110o 54' and 115o 57' East Longitude. East Java is bordered by:
North side: Java Sea
South side: Indian Ocean
West Side: Central Java Province
East side: Bali Strait
Administratively
The East Java Province consists of 29 regencies, 8 municipals and 2 administrative towns with Surabaya as its capital city.
Climate
Its topical climate means that October to April is the wet season, and May to September is the dry season with an average temperature of 20-30 C. The rainfall in East Java is relatively low, on average of 2,000 mm per year.
Demography
East Java province consists of various communities such as Javanese and Maduranese with their culture, tradition and customs.
Population
The population is almost 33 million people occupy about 48,000 square kilometers (including Madura island).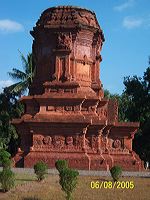 Cultural Attractions of East Java
Angklung: An ensemble of bamboo instruments quite popular in Banyuwangi.
Gandrung Dance: A classical dance dedicated to Dewi Sri, the goddess of rice. Popular in Banyuwangi as well.
Bull Race (Karapan Sapi): a regular attraction at the stadium of Pamekasan, Madura.
Labuhan Sesaji: a thanksgiving ceremony held by fishermen of Muncar, Banyuwangi, and Suro.
Reyog Trance Dance: traditional Ponorogo dance with 15 dancers wearing peacock-feather headdresses and tiger mask.
Tayub Dance: a popular social dance from Nganjuk, 120 km southwest of Surabaya. This dance is usually performed at wedding parties or other celebratory gatherings where the dancers use their scarfs to invite guests to join them.

| | |
| --- | --- |
| | Information and pictures courtesy of Indonesia Tourism. |